Consultation Hub
Welcome to Be Heard, Consultation Database for Birmingham's public sector. Accessing this website means you can participate in consultations about local issues that interest you. Using Be Heard means you can make your views known when decisions are being made about things that affect you and the area you live in.
For more ways to have your say including Petitions, details of local Councillor's Surgeries or live streaming of Council meetings please visit http://www.birmingham.gov.uk/consultations. Subscribe to our RSS feed for updates on latest consultations or sign up for our consultation alert mailing list on the grey tab: "Mailing List Signup"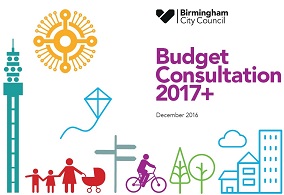 Birmingham City Council's vision for the future is for a city of growth in which every child, citizen and place matters. And, in planning our budget for 2017–18, every view matters.
Consultation ends in 38 days (18/01/2017)
We Asked, You Said, We Did
Below are some of the issues we have recently consulted on and their outcomes.
We Asked:

For your comments on the proposal to expand Moor Hall Primary School by one form of entry with effect from 1st September 2017.

You Said:

We received 38 responses via this website, 2 in writing and 1 email.

Of these 41 responses received: 16 were in favour, 24 were against and 1 did not express an preference.

The type of respondents are detailed below; some respondents selected more than one category.

Local resident responses totalled 13

Local resident Other "specified" totalled 1

Other "specified" totalled 3

Parent totalled 15

Parent and local resident totalled 8

Parent and local resident and "other" totalled 1

 

We Did:

We thank all respondents for their comments.

All comments will be submitted along with a report to the decision makers for a decision no later than 1st February 2017.  This is in line with: Department for Education Guidance - Making "prescribed alterations" to maintained schools - Statutory guidance for proposers and decision makers April 2016.

Where contact details are provided, we shall notify all respondents of the result and will also publish it on this website.

We note that some comments may be more pertinent to the planning application, e.g. traffic, parking, noise, privacy, impact on local residents.

Please note that the planning process is a separate consultation carried out and publicised by colleagues in Planning & Regeneration. This will be an opportunity for local residents and stakeholders to submit or resubmit comments to them at that stage.
We Asked:

For your views on the Proposal by the Governing Body of St Peter's CE School to change their status from voluntary controlled to voluntary aided.

You Said:

One  comment was received during the representation period and this was in favour of the proposal.

We Did:

We will forward the comment received along with a report to the decision makers for a decision on the proposal no later 1st February 2017.

We will publish the decision, when made, on this website.
We Asked:

We asked you to feedback your satisfaction with our services

You Said:

You responded on a series of indicators

We Did:

We will use the results to look to improve our services
During the consultation process, we ask for your feedback, you tell us and then we make positive changes. Public participation is key to our work. See what happens with We Asked, You Said, We Did.