Overview
The area bounded by Westbourne Road, Richmond Hill Road, Farquhar Road and the cross-city railway line (referred to as the "Wider Botanical Gardens Area"), is a unique area of Birmingham. The importance of both the historic and green environment is reflected in that the whole of the area falls within Edgbaston Conservation Area.
Maintaining what is special about the area and tackling some of the current problems requires on-going investment. Meeting the demands of the 21st century and management of the area's future lies in the hands of each of the main occupiers
To move forward requires a shared vision, an agreed set of priorities and action and collective effort.
The City Council considers a Framework document to be an appropriate way to identify:
What is special about the area,
What needs to be protected and enhanced,
Issues and problems that detract from the area,
How to address those issues,
A vision for the area,
A set of opportunities and actions to encourage ongoing investment and maintenance,
A proposed way forward.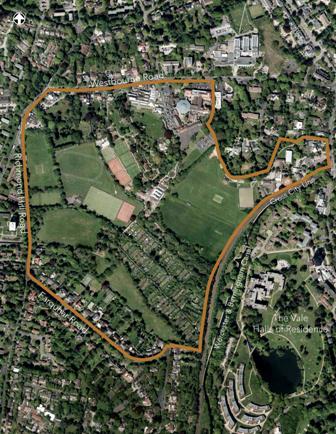 © Crown Copyright. All right revered Birmingham City Council 100021326,2014
© Copyright Geoperspectives supplied by Bluesky International Ltd.
This draft Framework has been prepared with the involvement of the area's main occupiers.
The Framework is non statutory and has no formal planning status, but it is hoped all parties will commit to it, endorse its content and use it as a means of guiding and encouraging ongoing investment.
A period of consultation is now being held, and comments on the draft Framework are invited. It will then be updated if necessary, agreed as a unified package of proposals and endorsed by the City Council, Calthorpe Estates and each user group.