Overview
Birmingham City Council would like your views on the Edgbaston Reservoir Masterplan Draft Supplementary Planning Document (SPD) which is available to download below.
The reservoir is an important open space for the city. It provides significant value in terms of ecology, biodiversity and heritage, and is a destination for water-based sport and recreation.
The reservoir and its surrounding environment is an underutilised resource that could benefit from significant investment to support the city's inclusive growth agenda.
The purpose of this SPD is to set a new vision for the reservoir, and ensure future development adds value to the area. The vision is to create a regional destination where residents and visitors can enjoy a unique mix of land and water-based leisure and recreation activities.
In summary the draft SPD includes:
A Vision to set out the Council's aspiration for Edgbaston Reservoir, including a number of Big Moves that identify the key themes that would optimise the reservoir;

Development Principles

to provide planning guidance and advice to developers on matters covering Connectivity, Activity and Design;

Delivery

requirements to support a comprehensive, partnership-based approach.
The draft SPD and supporting documents are available to download below.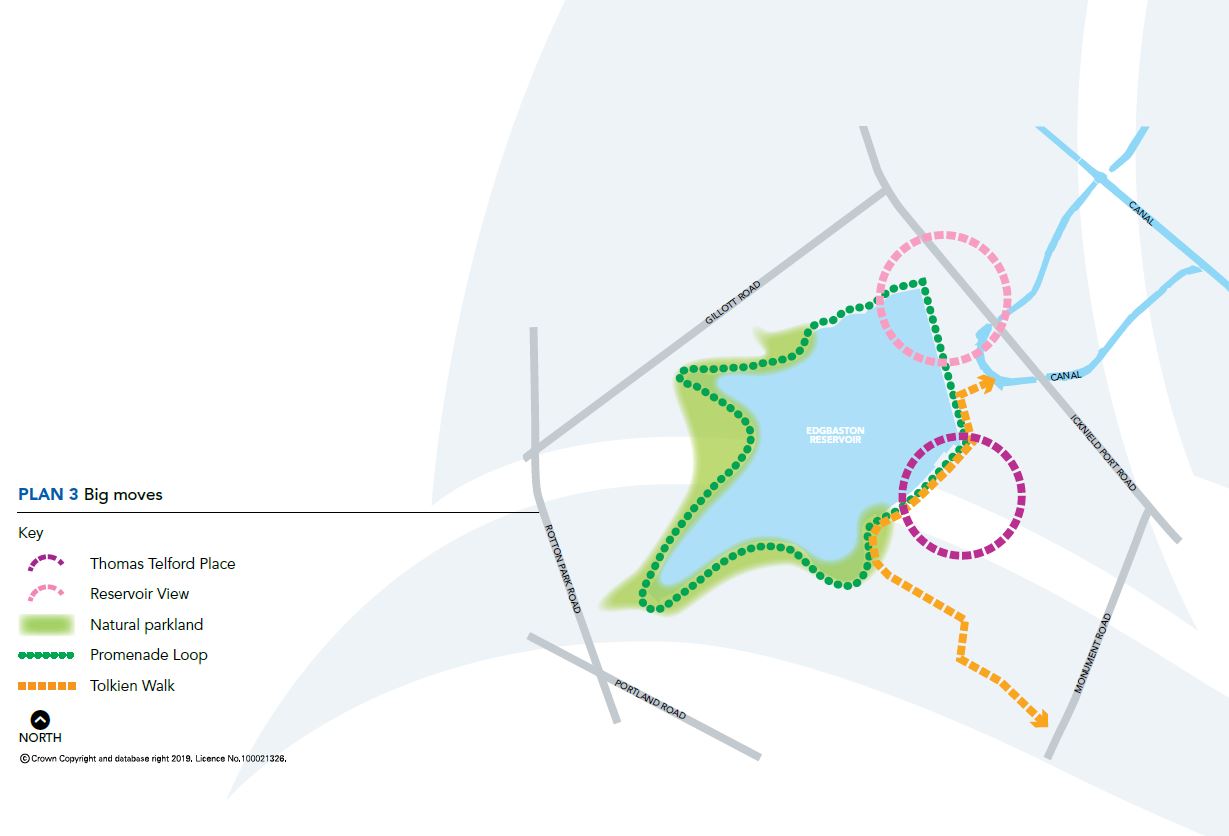 The Birmingham Development Plan (BDP) was adopted by the City Council in January 2017, and is part of the city's statutory planning framework. It guides decisions on development and regeneration activity. It identifies Greater Icknield as an area for growth, and highlights Icknield Port Loop and the Tower Ballroom Site as major opportunities, and allocates them to provide a mix of innovative family housing, commercial, and community uses. This Draft SPD will expand on the vision set out in the BDP and provide an up-to-date planning framework for Edgbaston Reservoir with specific guidance.
In February and March 2019 we asked for your views on the planned pathway improvement works at the reservoir. This was a separate consultation undertaken by Landscape Practice Group. If you have any questions regarding this, please contact them on lpg@birmingham.gov.uk.
Why your views matter
We are asking you to let us know your views on the draft SPD. Your comments will help shape the plans for the reservoir.
How to have your say
An online survey has been set up for people and organisations to provide their comments on the draft SPD. Comments can also be provided by email or posted to the following addresses:
Planning & Development, Birmingham City Council, 1 Lancaster Circus Queensway, Birmingham, B4 7DJ. 
After the consultation period closes, all comments will be collected and taken into consideration. The draft SPD will be amended where necessary, and then be adopted by the City Council. A consultation statement will also be produced. This will outline who was consulted, the main issues that arose, and how those issues have been addressed in the final SPD.
The SPD needs to be adopted by the City Council in a timely manner to it can be used to guide future planning applications and investment decisions on the site. To ensure this happens, the preparation of the SPD is anticipated to progress as follows:
Public consultation on Draft SPD – 3rd May to 26th July;
Review comments and prepare final SPD – August to September 2019;
Adoption of final SPD by Cabinet – November 2019.  
A number of public drop in sessions have been organised for you to attend, ask questions and provide your comments. Details of these sessions are set out in the Events section below. We will also offer meetings with key partners in the area, for example landowners.
The draft document can also be viewed at the Library of Birmingham, Spring Hill Library, and at Lancaster Circus, Birmingham, B4 7DJ.
Frequently asked questions (FAQs) on particular matters such as open space, wildlife considerations, and the planned pathway improvement works will be available by14th June 2019.
Further background information on the growth plans for the area can be found in the Birmingham Development Plan and Greater Icknield Masterplan (see links below).