Overview
The Birmingham Development Plan (BDP) was adopted by the City Council in January 2017, and is part of the city's statutory planning framework, guiding decisions on development and regeneration. The wider Southern Gateway area is identified within the BDP as the largest 'Area of Transformation' within Birmingham City Centre, and includes Birmingham Smithfield and the area around the River Rea. This SPD will expand on the vision for the Southern Gateway set out in the BDP Policy GA1.2 'Growth and Wider Areas of Change,' and provide an up-to-date framework with specific guidance.
The Southern Gateway has been renamed the Rea Valley Urban Quarter, given the focus of the SPD on the transformation of the River Rea to create a unique waterside development. It is one of Birmingham's oldest neighbourhoods and comprises parts of Digbeth, Southside, Cheapside and Highgate.
Rea Valley Urban Quarter Draft SPD
The purpose of this SPD is to set out a vision for a sustainable mixed-use neighbourhood, focused around the transformation of the River Rea corridor, offering a unique waterside development in the heart of the city centre.
The SPD will specifically:
Introduce the area and explain the policy and development context;




 

Outline the 'Big Moves', the delivery of which will secure the vision for the Rea Valley Urban Quarter;




 

Establish the over-riding development principles which will be used to guide the future layout and design of new development – connectivity, resilience and design;




 

Identify distinctive neighbourhoods within the urban quarter, within which different approaches will be taken to development, reflecting local history, character and communities.




 

Set out the broad approach to the delivery of development, partnerships and the future procurement process.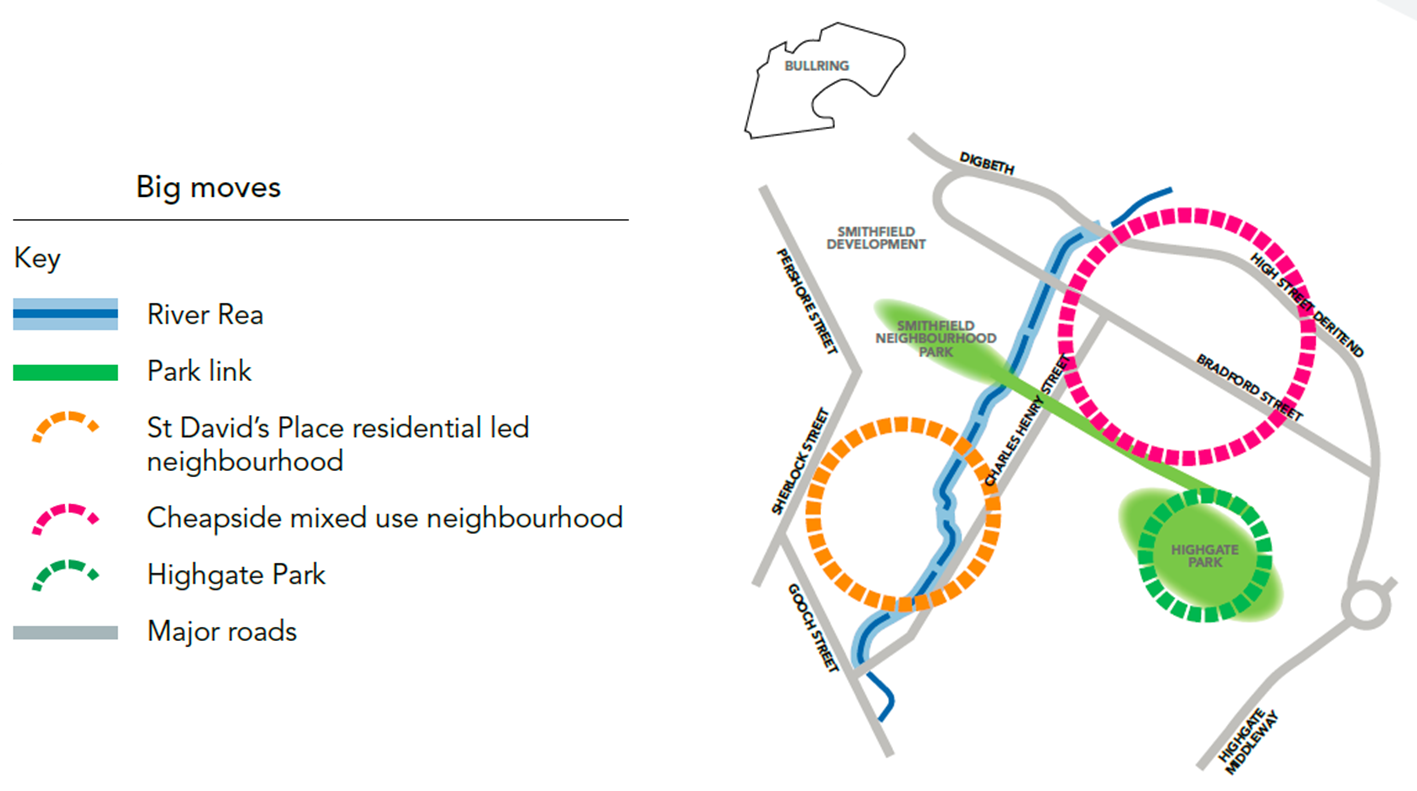 The document is available to view below, and your comments can be submitted to us via the online survey.
Why your views matter
We are interested in your views on our vision and plans for the Rea Valley Urban Quarter, and would particularly welcome suggestions and comments from residents and local businesses to help shape change in this important part of Birmingham city centre.
An online survey has been set up for people and organisations to provide their comments on the draft SPD (a copy is available to download below). People can also provide comments by email or post (Planning & Development, Birmingham City Council, 1 Lancaster Circus, Birmingham, B4 7DJ).
A number of public drop in sessions have been organised for people to attend, ask questions and provide their comments. Details for these sessions are set out below.
The draft SPD can also be viewed at Birmingham Central Library, B3 3AX, and at 1 Lancaster Circus, Birmingham, B4 7DJ.
Meetings will also be available for stakeholders throughout the consultation period.