Overview
Lots of people travel to and in Birmingham city centre every day. We need to improve public transport to make it easy for people to get around and to reduce reliance on private cars, which cause unnecessary congestion and air pollution. We are currently working to create a clean air city, including the introduction of a Clean Air Zone from 2020. The main goal is to reduce the level of nitrogen dioxide in the city's air.
As part of the Clean Air Zone, a number of additional transport improvements including bus priority schemes have been designed on key transport corridors in the city.
Between 1 April and 7 May 2019, we consulted on proposals for an outbound bus lane (travelling away form the city centre and towards Belgrave Interchange) and shared footway/cycleway. Of the 164 people who gave a response about Sherlock Street, half liked the scheme as it would improve bus journey times outbound from the city centre. There were, however, concerns that the scheme did not fully address the needs of pedestrians and cyclists. We have taken into consideration all the comments made during consultation and have decided to put forward an alternative design for consultation. We are looking to provide a scheme which balances the needs of all road users as far as possible.
Bus Priority Measures
While figures show good levels of satisfaction among bus users across the West Midlands, traffic congestion in Birmingham reduces journey time and reliability.
Bus priority measures, including bus lanes and bus gates, improve bus journey time and reliability, supporting people to change their travel habits by switching from private cars to more sustainable forms of transport such as buses.
Bus Priority on Sherlock Street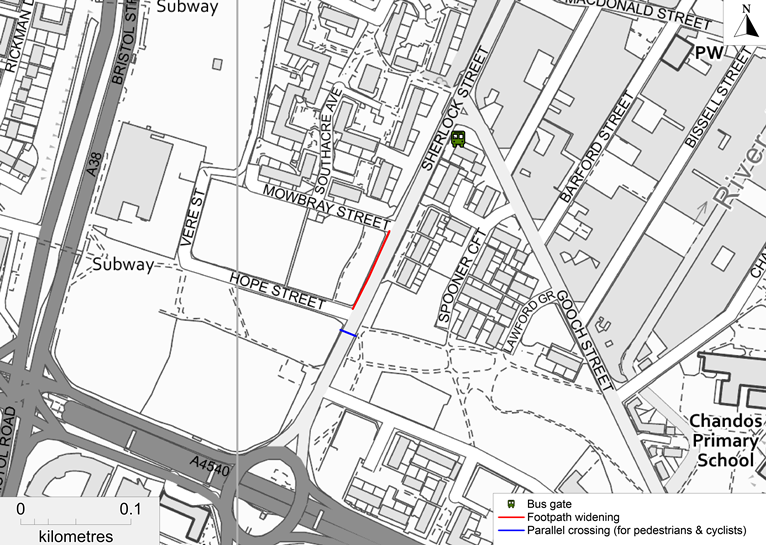 The revised Sherlock Street scheme design includes:
A bus gate on Sherlock Street, located just after the junction with Gooch Street (in the direction of Belgrave Middleway). The bus gate will restrict traffic in the outbound direction to buses, cycles and Hackney Carriages (black cabs).
Widening the footpath between Hope Street and Mowbray Street. This is to improve pedestrian access to the bus stop.
Upgrading the crossing on Sherlock Street (close to Hope Street) to a parallel crossing for use by pedestrians and cyclists. This is to improve connectivity for cyclists travelling between National Cycle Route 5 on Gooch Street and the A38.