Overview
Erdington is one of Birmingham's busiest and most vibrant local centres. There is a high demand for parking which impacts on residents and other visitors to the area. We want to ensure provision of parking for a wide variety of users including residents, shoppers, workers and visitors.
A consultation was first held in 2012, where 69% of respondents were in favour of parking controls across the area. We have reviewed the issues raised and we now have the opportunity to carry out further informal consultation to understand what people who live, work and visit Erdington think about the current parking situation and what proposals they would like to see.
The map below shows the area covered by the parking scheme. Detailed plans for each of the numbered areas are included in the documents attached below.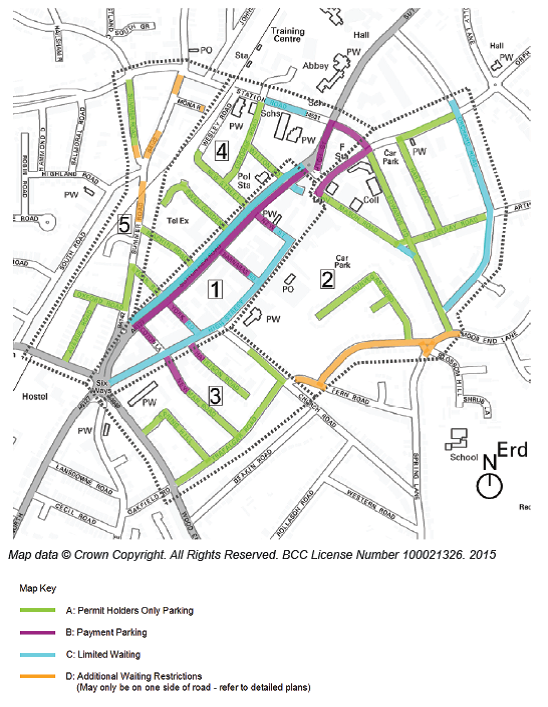 There are three types of parking provisions:
A. Permit holders only parking: On these roads, parking bays for residents and workers permits are provided. Visitor permits can also be purchased by residents to park in the permit holder bays.
B. Payment parking: In some streets close to High Street, visitors and shoppers can pay for parking. The parking bays will have a maximum stay period of either 2 or 4 hours to promote a high turnover of vehicles and prevent vehicles from parking all day.
C. Limited waiting parking: On the High Street and other retail areas, limited waiting bays will be provided with a 2 hours maximum stay. We are proposing to not charge for parking in these areas. We are keen to provide parking for shoppers and ensure a high turnover of vehicles to support the business activities in this area. To aid enforcement, there is a possibility that a small charge will be applied. This will be reviewed at a later date.

Blue badge holder bays are provided in key locations; these are shown in the more detailed plans.
All other roads not covered by A, B or C will remain as existing or subject to additional waiting restrictions.
Although residents of Dunvegan Road and Bracadale Avenue were consulted in 2012, their roads were not part of the area where changes to parking arrangements were proposed. We received a number of responses suggesting that these roads should be included in any scheme. For this reason, we are asking an additional question of the people living on these roads about the principle of introducing resident parking.