Overview
'Transforming the city centre' is one of the big moves outlined in the draft Birmingham Transport Plan (January 2020). To achieve this, fundamental changes to how the city centre is accessed were proposed as part of a city centre 'traffic segments initiative'.
This would see the city centre divided into a number of segments. Each one would only be accessed from the A4540 Middleway (ring road), and to move from one segment to another in a private vehicle you would have to go back out onto the A4540 Middleway. Movement between the segments would be unrestricted, and indeed enhanced, for public transport, pedestrians, and cyclists.
It will remain possible to reach all areas of the city centre currently accessibly by motor vehicle. The route used to reach some places may change.
The area within the A4540 Middleway will eventually be divided into the city core and six city centre segments (segment names are provisional).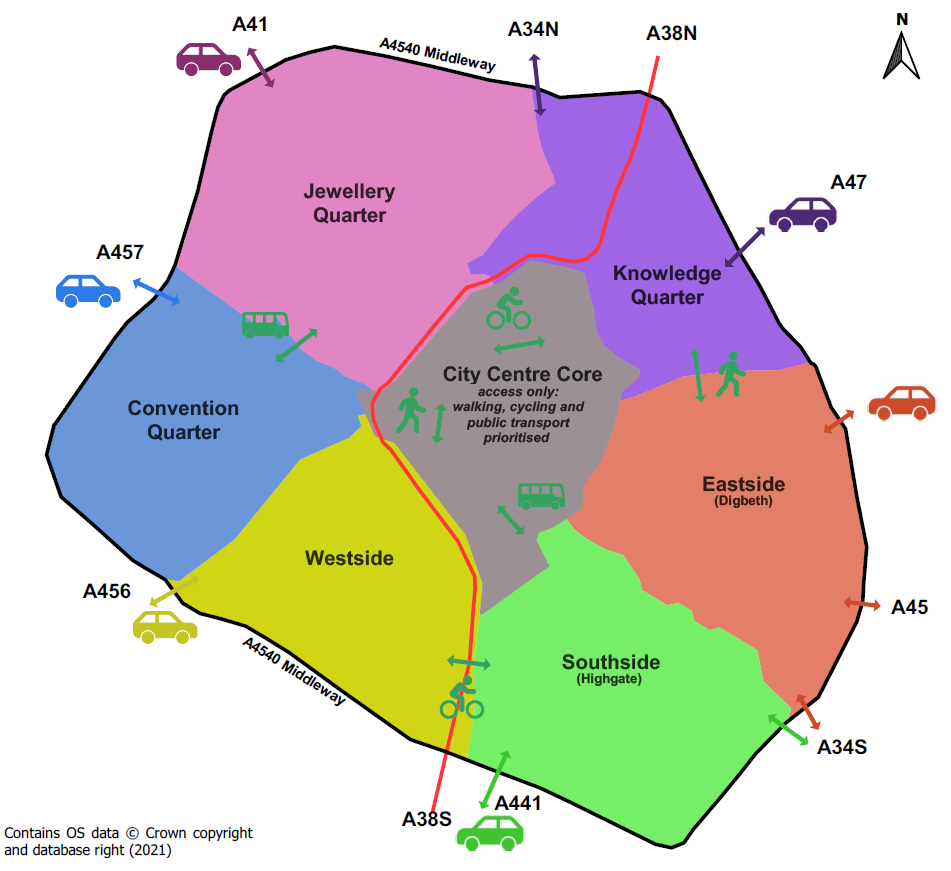 Where?
In 2020 we began to implement these city centre segments through the Emergency Active Travel Fund and as outlined in the Emergency Birmingham Transport Plan. By reducing the volume of through traffic and the dominance of vehicles in the city centre, we start to create more space for people.
Last year we delivered several temporary traffic management measures in the Jewellery Quarter, Southside and in the Colmore area. We have undertaken a review of these proposals and are planning to make some of the measures permanent (some will be removed) and implement some additional measures in the Eastside area. 
The PDF shown below shows a high-level traffic management plan showing the measures proposed. (Note: You will need to zoom into the PDF to be able to clearly see the proposals). Zoomed in images including more details of each of the proposed locations is available within the 'Online Survey' at the bottom of this page. 
Open traffic management plan in new browser tab.
You can also see the engineering plans with details of how each part of the scheme would be delivered:
Between Jewellery Quarter and Knowledge Quarter:
New Town Row (this makes permanent an existing temporary arrangement)
Between Convention Quarter and Jewellery Quarter:
Between Eastside and Southside:
What happens next?
At the end of the consultation we will review and analyse all of the feedback collected during the consultation and engagement period. This review will help inform any changes to the measures proposed. Following this, there will be statutory consultation on the Traffic Regulation Orders (the legal documents required to make changes to the highway) before construction can begin.