Overview
UPDATE 11/06/2021:
We would like to update you on the progress of the University of Birmingham and QE Hospital parking management scheme. We have experienced number of issues with coronavirus restrictions as well as funding, which have now been successfully resolved but resulted in substantial delay in the delivery of the scheme.
The decision has been made to proceed to Full Business Case (FBC) stage with the shortlist of eight areas – 3D, 2C, 3C, 1B, 3A, 3B, 5 and 2B - as the priority areas.
The Full Business Case report has been approved and fully signed off on 26th of May 2021.
Following approval of the FBC, a formal consultation will be carried out with the general public, as part of the Traffic Regulation Order (TRO) process. We are currently writing the Traffic Regulation Orders to be advertised to the public.
The TRO advert is the stage of the statutory consultation on TROs when formal objections can be made and it lasts 21 days. We would like to advertise the TRO orders to the public throughout summer. Local residents will receive a letter, and everyone will be able to comment on the consultation online on BeHeard website.
We will advertise orders for each of the area separately as we are aware that some of them may attract more objections than others and we would not like these to cause delay to implementation of areas where the consensus can be achieved more quickly. Delivery of the areas without significant public TRO objections is expected to be in the beginning of 2022, although we will expediate works where possible. It needs to be remembered that where there will be significant objections it may take more time to resolve them hence the delivery could be potentially delayed.
____________________________________________________________
We have now met with all the Ward Councillors and the Cabinet Member for Transport and Environment, and agreed the prioritisation of areas for delivery of the scheme given the limited budget currently available.
The decision has been made to proceed to Full Business Case stage with the shortlist of eight areas – 3D, 2C, 3C, 1B, 3A, 3B, 5 and 2B - as the priority areas, delivery of which is still subject to final approvals.
It is recommended not to proceed with the delivery of the Area 4 as this has received very low public support for any parking control measures. Parking should be monitored further after the completion of the parking measures on adjacent Areas 5 and 3C to determine whether any displacement of the commuter parking has occurred. Any future measures in Area 4 would be subject to securing additional funding.
Area 1C cannot be delivered with the available budget. It will require further development, public consultation and securing further S106 funds. There is potentially further funding from other nearby developments, which is subject to parking surveys showing there is a problem resulting from the new development. This could contribute to the covering the cost of the delivery of Area 1C in the future.
With regards to Area 3E, the public consultation has shown that the parking problem is largely caused by visitors to the high street, as well as police station on Rose Road and staff/parents of Harborne Primary School. The problems caused by the parking by visitors to the high street, police station and staff/parents of primary school pupils are not within the scope of the funding for this project. The budget for this project is covered by funding from the developers to target specifically commuter parking from staff at QE Hospital and University of Birmingham.
In Area 1A there was very low support from the local residents with regards to the proposed measures.
The Area 2A has higher level of the off-street parking spaces than some of the other areas which were put forward for the consultation, therefore the issue of commuter parking is of a lower priority than in the areas with very low off-street parking available. Any future measures in Area 2A would be subject to securing additional funding.
Due to current national coronavirus lockdown the delivery timelines for this project are likely to be delayed. We will give further updates in due course.  
___________________________________________________________
Recent expansions at the University of Birmingham and facilities on the Queen Elizabeth Hospital site mean that more people are now travelling to this area. Together with new homes and an increase in car ownership, there are now significant pressures on parking in local streets.  This can have a negative impact on access for deliveries, buses and waste vehicles, and on the safety of all road users. Many properties do not have private off-street parking, and so there are increasing demands on the limited supply of public on-street parking spaces.  We are therefore proposing measures that prioritise parking provision for local residents in local streets, and improve access and safety of local roads.
Why your views matter
We are working with the University and hospitals to encourage as many people as possible to make their trips by public transport, cycling and walking. Where this is not possible, we want to make sure that visiting cars are parked in appropriate places, with local residents having priority for the kerb space near their homes.
This is one location where we think we can improve on-street parking for residents and welcome feedback from people within this area.
For information on the full scheme and proposals in other areas visit: www.birmingham.gov.uk/HospUniParking
Navigate to the bottom of the page for details about public consultation events.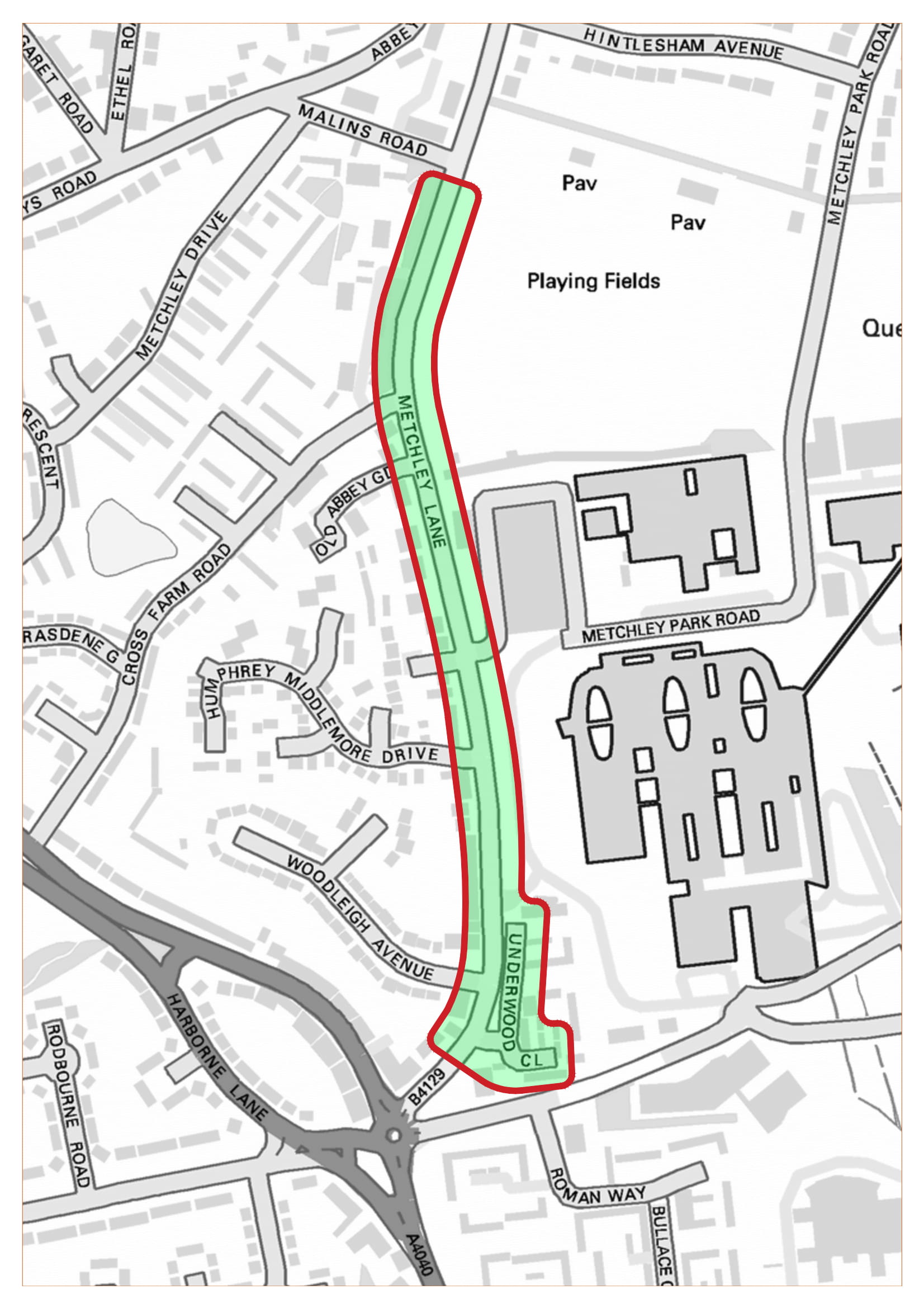 Proposals
In area 2C, we are considering two options to improve parking:
View this plan in a new browser tab
No Waiting At Any Time is proposed along Metchley Lane. This will greatly improve traffic flow along this road which is also a major ambulance route.
View this plan in a new browser tab
A day time waiting restriction is proposed along Metchley Lane. This will greatly improve traffic flow along this road which is also a major ambulance route.
In both options, proposals in Underwood Close are to improve the signage, making the existing permit parking zone more visible.
This consultation is the first stage of this parking review and no decision has been made about whether changing the parking controls is right for the area. We are considering the 13 proposals as separate schemes, and may go ahead with some and not others, depending on the feedback from local residents.
The views and information from this consultation will help us understand whether a parking scheme is something the community supports. This is why we encourage everybody to comment and give their views.
If responses are largely positive, further work will be taken forward and more information will be circulated once this has been completed. The delivery of the schemes may need to be prioritised based on budget, demand, and location to the university and hospital.